Evangelicals: Churches Should Discuss Politics, Pew Shows in New Research
Evangelicals: Churches Should Discuss Politics, Pew Shows in New Research | Christian News Update
Most evangelicals and members of historically black Protestant churches say congregations should discuss social and political issues, although every other major religious group in the U.S. wants their religious leaders to keep quiet on politics, according to a new Pew Research Center survey.
The poll of 6,364 U.S. adults asked if churches and other houses of worship should "keep out of political matters" or "express their views on day-to-day social and political questions."
Although 63 percent of all U.S. adults say churches should stay out of political matters, evangelicals disagree, and by a 55-43 percent margin say churches should express their views on social and political questions. Members of historically black congregations also chose the "express their views" option by a margin of 54-43 percent.
Members of other religious groups, though, say churches and houses of worship should keep out of political matters. This includes 63 percent of mainline Protestants, 62 percent of Catholics and 69 percent of Jewish adults.
"Protestants in the evangelical and historically black traditions are the only major U.S. religious groups in which more people say churches should express their social and political views," Pew said in an online analysis.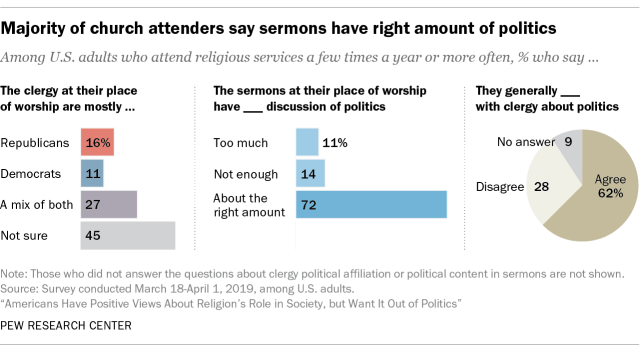 Those two groups also are the most likely to say churches should endorse candidates. Forty-five percent of members of black congregations and 36 percent of evangelicals say churches and other houses of worship should "come out in favor" of one candidate over another. Still, most members of both groups (55 percent of black church members and 62 percent of evangelicals) oppose the idea. Overall, 76 percent of all U.S. adults oppose churches endorsing candidates.
Meanwhile, 45 percent of U.S. adults who attend religious services at least a few times a year say they don't know which political party their pastors or clergy support. Sixteen percent say their religious leaders are Republican and 11 percent say they're Democrat. Twenty-seven percent say they're a mixture of both.
Read Intriguing Christian News provided through Popular Christian News Blog on the internet. Featuring trending new stories; politics, education, entertainment and more. The Christian News provided on this space are provided through popular blogs on the web and they are purely Christian News. If you find the Christian News seen on this blog usefull, share it with your family and friends.